1. Create your Coalition Profile
The University of Washington is a one of 120 public and private universities across the U.S. that comprise the Coalition for Access, Affordability, and Success, a college planning and application platform. For admission we require the following Coalition Profile sections: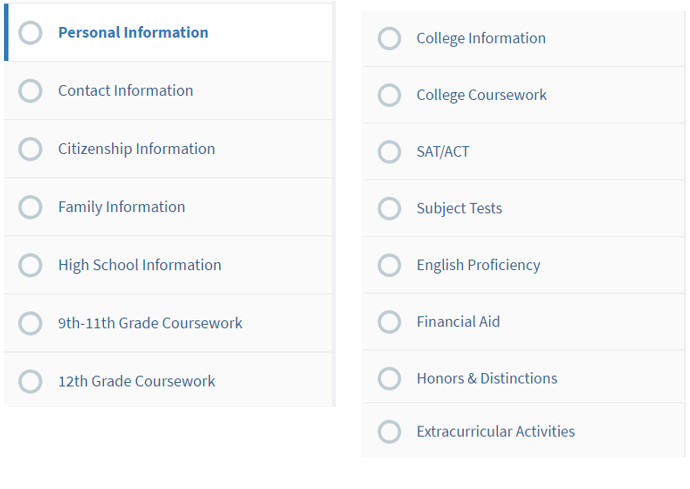 Note: English Proficiency will only be required for international applicants.
The Coalition Profile is open for autumn 2018 applicants.
2. Complete the UW Questions
The UW questions are required in addition to the Coalition application. These additional questions include two essays, demographic information, and your intended major. If you plan to apply to the Honors Program, you'll find the Honors application here. Learn more about the essays
3. Pay the application fee
U.S. freshman students
The $80 application fee for U.S. freshman students is nonrefundable and must be submitted each time you apply for admission.
Learn more about the U.S. application fee
International freshman students
The 90 USD application fee is nonrefundable and must be submitted each time you apply.
Learn more about the international application fee
4. Send test scores
U.S. freshman students — SAT/ACT
Scores from SAT or ACT are required for admission and must be sent directly from the testing agency. The UW accepts the SAT and ACT equally. There is absolutely no advantage in submitting one test over the other.
Learn more about SAT/ACT scores
International freshman students — English proficiency
International students must submit English proficiency test scores that meet the minimum requirement for admission at the Seattle campus of the University of Washington.

The SAT and ACT exams are not required for international students, but we recommend applicants interested in an Engineering or other STEM-related major (Science, Technology, Engineering, and Math) to submit SAT or ACT math scores.
Learn more about English proficiency
5. Send transcripts?
U.S. students
Do not send high school or college transcripts until you receive a request from the Office of Admissions. The Coalition application asks you to provide a detailed account of your academic coursework, and that's all we need to review your application.
International students
International students must upload transcripts at the time of application.
Learn more about sending transcripts
6. Apply now
The freshman application for autumn 2018 will open September 1, 2017.
The University does not consider the following in the review of applicants:
No interviews/demonstrated interest
The UW does not conduct formal interviews or consider demonstrated interest in the admission decision.
No letters of recommendation
We ask you not to send letters of recommendation or other supplemental materials such as drawings, CDs, DVDs, books, or other portfolio type items. We will learn everything we need to know about you through your essay responses and Coalition profile, so it is not necessary for you to submit any other supporting documents.