Visit
Welcome! We're looking forward to your visit
Following federal, state and local health guidance, as of July 7, face coverings are optional for fully vaccinated individuals at UW campuses and facilities. Individuals who are not fully vaccinated must continue to wear a face covering indoors at all UW campuses and facilities and should also consider wearing face coverings outdoors when distancing is not possible.
Before your visit
If you haven't already, be sure to register for a campus tour as we are unable to accommodate walk-on's at this time.

Stay home if you're sick
While we can't wait to see everyone in person again, if you are sick with any illness and especially if you are experiencing any of the following symptoms, please do not come to campus, even if you are vaccinated. 
Fever

Cough

Shortness of breath

Sore throat

Runny nose

Headache

Muscle aches

Chills

Loss of taste or smell

Nausea or vomiting

Diarrhea
Watch videos outlining the admission process
Admissions information sessions remain on pause, however, we invite you to explore our series of short videos outlining the admission and application process. Explore the admissions YouTube playlist in advance of your visit so we can answer any follow up questions you may have.

Weather and what to wear
Seattle weather is typically mild. A hooded jacket or umbrella is often a good idea, depending on the time of year. Wear comfortable shoes. The campus tour covers 0.8 miles. For the most up-to-date forecast, visit weather.com.
During extreme weather conditions, visit the UW homepage to ensure the campus is open. In the event that campus is closed, all visit activities will be cancelled and guests will be notified.

Hotel accommodations
Eating on and around campus
From street food to cafes and everything in between, Housing & Food Services has your next meal covered. With over 35 options for on campus dining, find something near you! Or take a short walk off campus and explore the global eats within the U District.
Please note, due to COVID-19 and summer operating hours there may be limited availability of dining options. The Starbucks truck will be open and located on Red Square this summer, Monday – Friday 8 a.m. – 4 p.m. 
Traveling to campus
By bus: More than 60 bus routes serve the University District, including many with stops right on campus.
By Link light rail: The UW light rail stop is at Husky Stadium, a 10-minute walk from the Husky Union Building (HUB), where campus tours and information sessions take place. The UW stop is a 45-minute ride from Sea-Tac International Airport.
By air: Sea-Tac International Airport serves Seattle and is about 30 minutes from campus by car (during heavy traffic, this may take up to an hour).

Driving directions to the Central Plaza Garage gatehouse
From Interstate 5 (I-5), northbound or southbound
Note: Do not use the express lanes.
Take exit 169 (NE 45th St) toward 45th St.
Take a right turn from I-5 N or a left turn from I-5 S to travel east on NE 45th St. for about half a mile.
Turn right on 15th Ave. NE and continue for several blocks to NE 41st St.
Central Plaza Garage is on the left (east) side of 15th Ave NE.
From the east side of Lake Washington via SR 520 (toll bridge)
Take SR 520 westbound toward Seattle.
Take the Montlake Blvd. NE exit, then turn right (north) onto Montlake Blvd. to cross the Montlake Bridge.
Just past the bridge, turn left on Pacific Ave., and continue west for several blocks. You will pass the UW Medical Center and Health Sciences complex on your left.
Turn right onto 15th Ave. NE and continue north about three blocks to NE 41st St.
Central Plaza Garage is on the right (east) side of 15th Ave NE.
Parking on campus
If you drive, we recommend getting to campus at least 30 minutes before your scheduled visit to allow time to park and find your way to your destination. When you arrive, visit the Central Plaza Garage gatehouse to purchase a permit. The Central Plaza Garage gatehouse can be found on 15th Ave NE at NE 41st Street (see map).
Alternately, you may use the self serve parking map to find parking and pay by phone.
Please note: Not all gatehouses are open at this time. The Central Plaza Garage gatehouse is open 6 a.m. – 9 p.m. Monday thru Friday.
Campus tour
Campus tours leave from the Husky Statue outside the Northwest entrance of the Husky Union Building (HUB). Look for the tent and table to check-in. Have your cell phone charged and with you. We'll be using a call-in conference line to ensure that tour guides can be easily heard while allowing for physical distancing among other guests.
What to expect
During the 75-minute student-led campus tour you'll explore 0.8 miles of upper campus covering the Liberal Arts Quadrangle, Red Square, Sylvan Grove and more.
With many buildings closed to the public due to COVID-19, the tour will remain outdoors only. Restroom access will be available in the Husky Union Building (HUB) before and after the tour so please plan accordingly. Your tour guide or admission counselor can let you into the building.
For a look inside classrooms and other student services buildings, we encourage to check out our virtual tour. And, for a glimpse inside residence halls check out the housing virtual tour.

What to bring
This summer our tour guides will be utilizing conference phone lines in order to allow for physical distancing among guests during tours. Please bring a cell phone to access the conference line and plan to listen to the tour guide while maintaining six feet of physical distance.

Additional COVID-19 information
This autumn, the UW will safely return to in-person instruction and activities.
Meanwhile, most summer quarter courses are being held online and we are offering more in-person student services and activities as state and local health guidelines permit.
We remain committed to providing a high-quality Husky Experience for every student, supporting the University of Washington's vital research and service missions, and continuing to provide the outstanding medical care that keeps our community healthy.
More places to see while on campus
Photo ops
Want to document your visit with an iconic UW photo? Here are our favorite spots: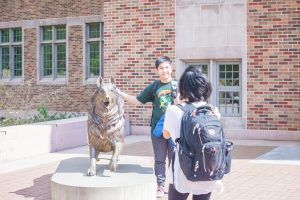 Dubs statue outside the NW entrance of the HUB (Be sure to pet him for good luck!)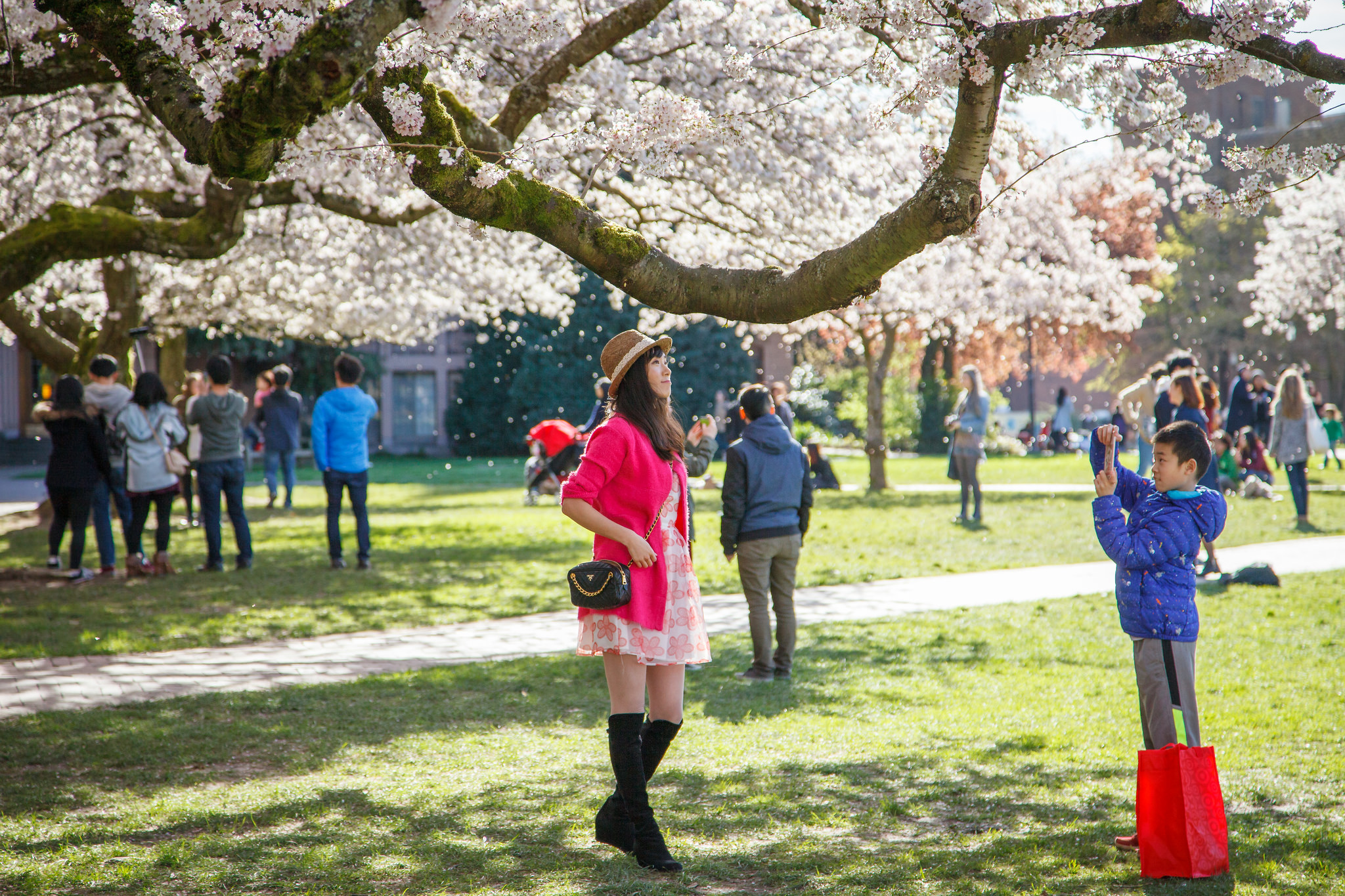 Cherry blossoms on the quad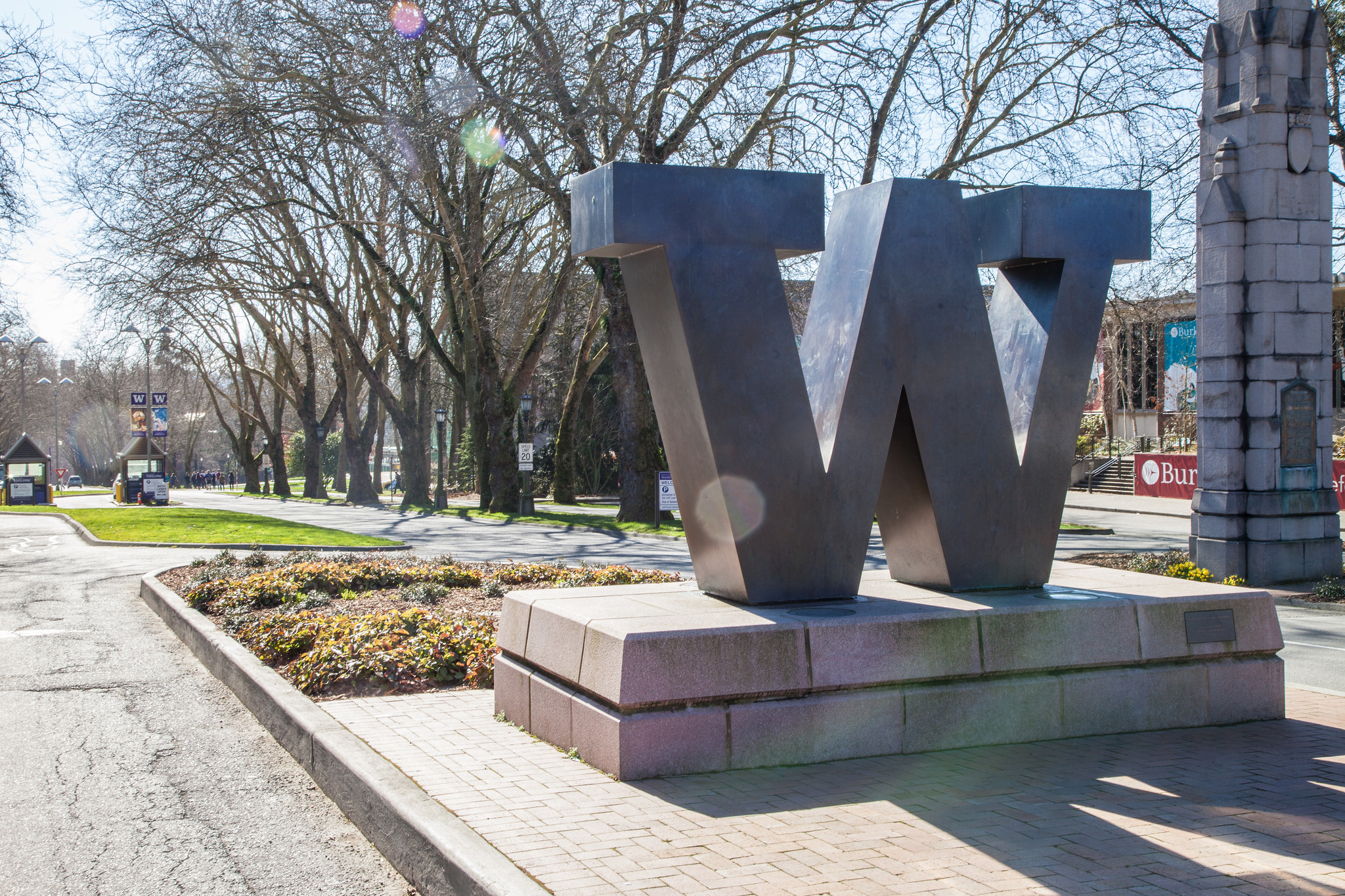 "W" statue (Located off NE 45th St. and 17th Ave. NE)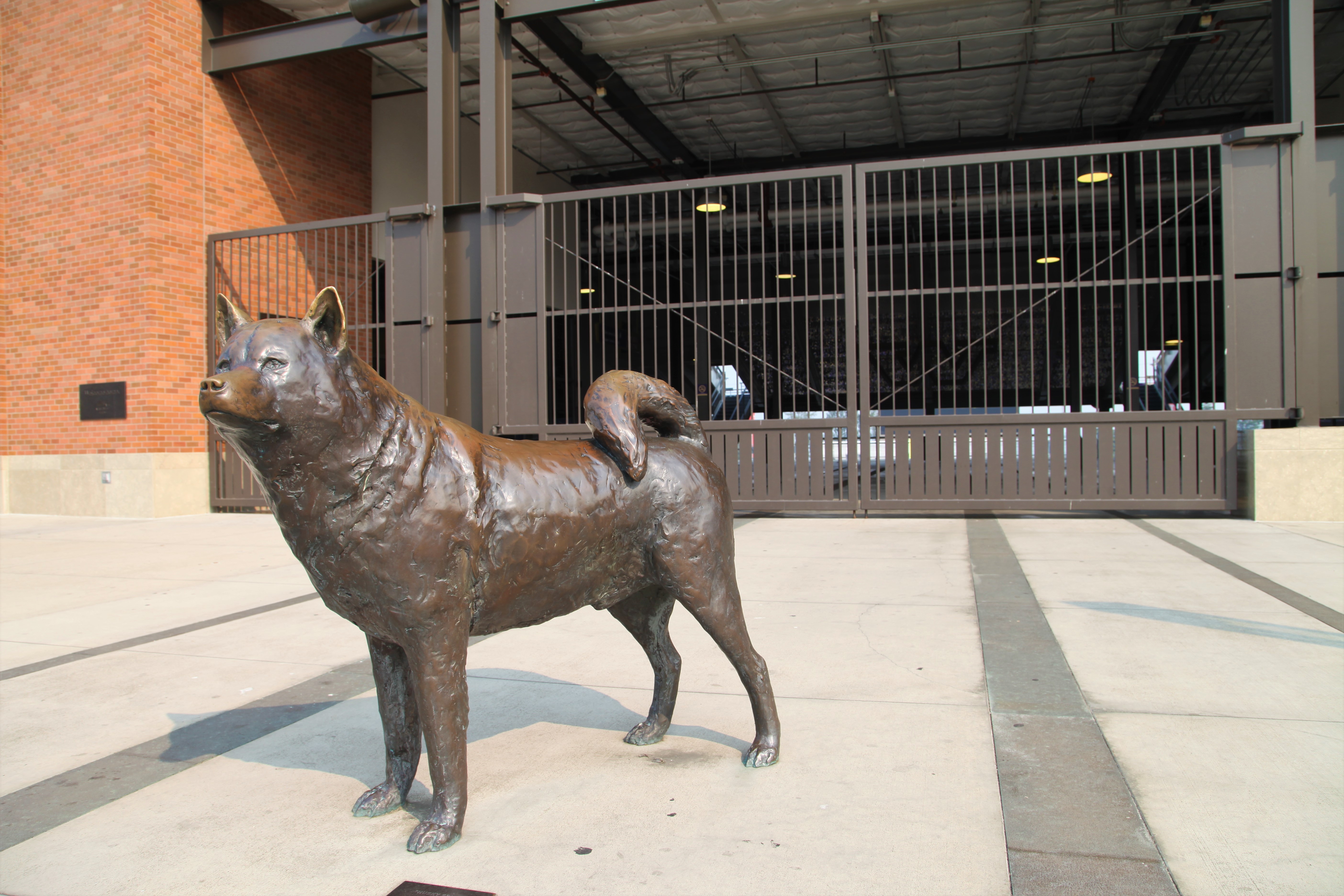 Dubs statue outside Husky Stadium (Be sure to pet him for good luck!)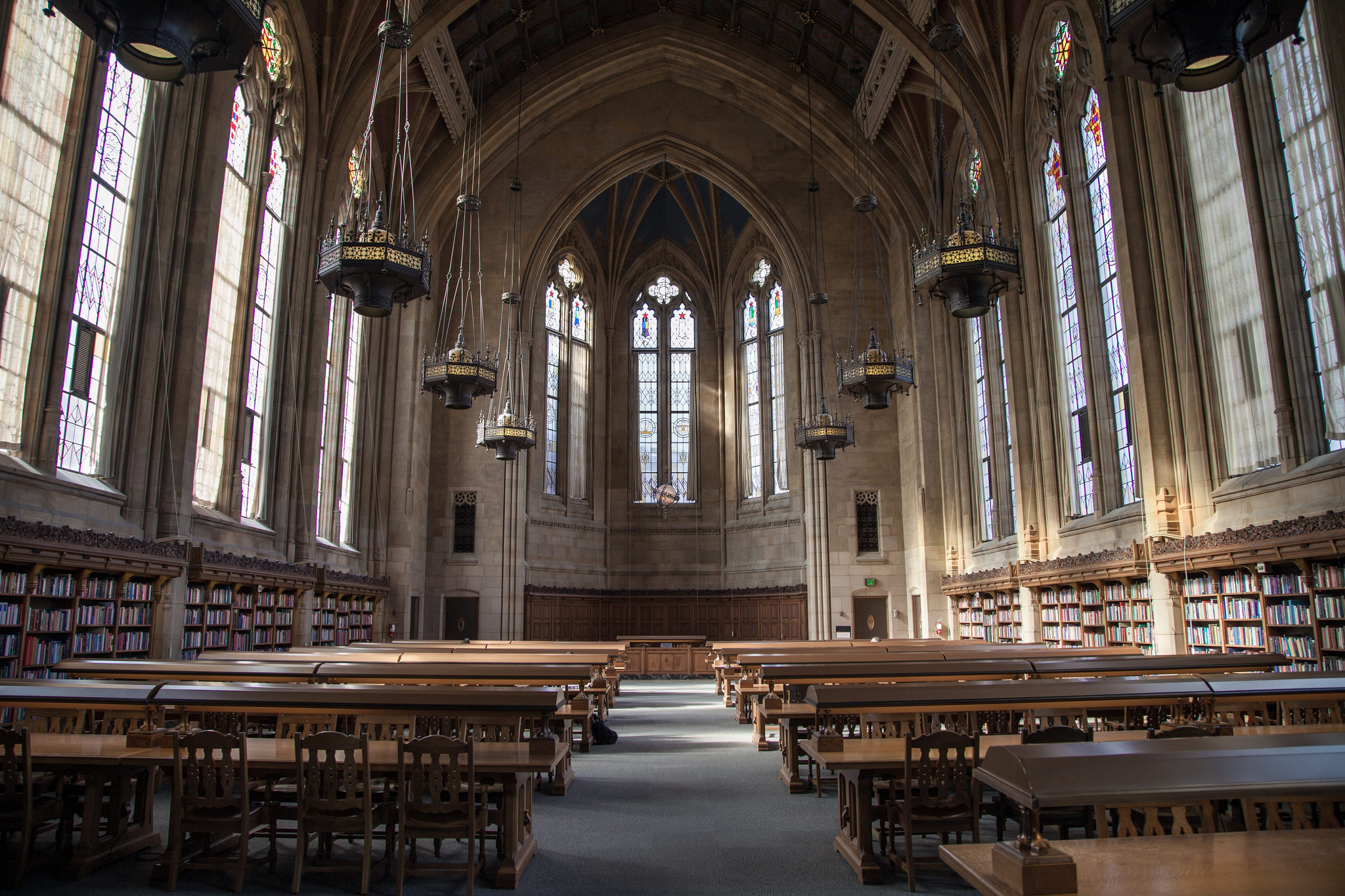 "Harry Potter" reading room in Suzzallo Library (Currently closed to visitors)
Cherry blossoms
In March and April, don't miss the Yoshino cherry trees blooming all over the Quad. But don't worry if you visit another time — there are 200 other types of cherry trees around campus that bloom after the Yoshino cherry trees. Follow their progress on Twitter.
University Book Store
The University Book Store is located at 4326 University Way NE, also referred to as The Ave.
Request disability accommodations
The University of Washington is committed to providing access, equal opportunity and reasonable accommodation in our services, programs, activities, education and employment for individuals with disabilities. To request disability accommodations for a campus tour, please email visituw@uw.edu at least 10 days in advance of your visit.