Admitted Student Preview (ASP) is a one-day event for newly admitted Huskies and their families. Each date is focused on specific academic areas. The event is especially suited to students who have not yet committed to the UW and who seek an authentic taste of the Husky Experience before making a decision by May 1.
Schedules
Each day is focused on specific academic areas. Find the day that best suits your interests.
Are you a pre-major or undecided? You are welcome to attend any session but April 6th, which is reserved for students admitted to computer science or engineering undeclared.
What you can expect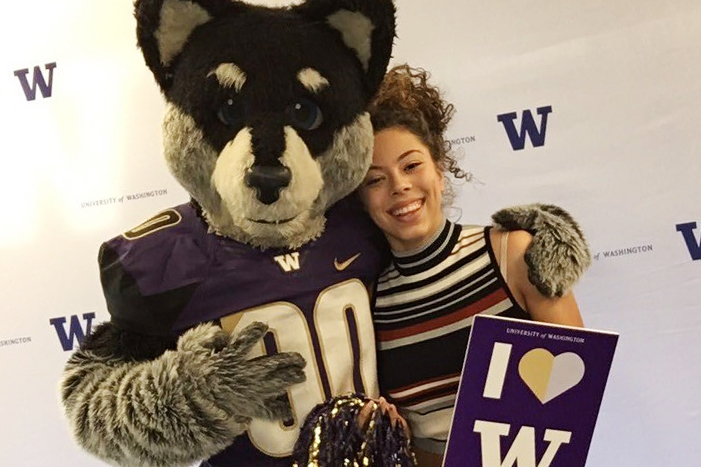 Photos
Grab some fun props and take a photo with a friend during check-in. Share your day at #NewHuskies2019.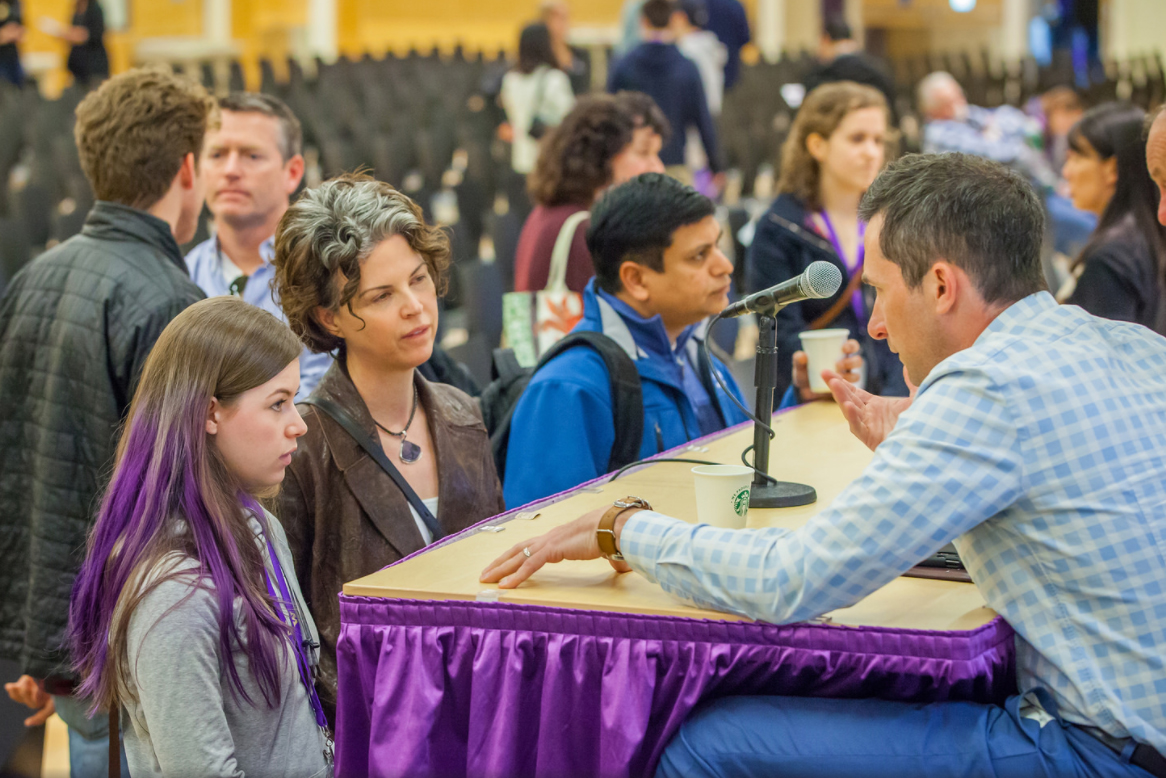 Advice
Current students, parents and staff will provide advice and stories of their experience. You can also get questions answered at the "Ask a Counselor" table.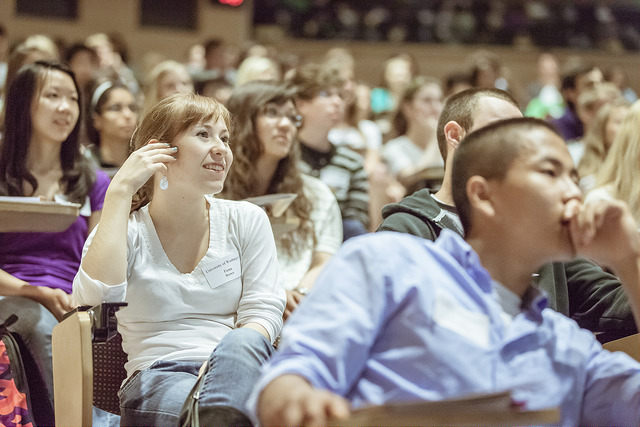 Academic experts
You can get a sneak peek at university lectures by attending an academic session in a subject that interests you.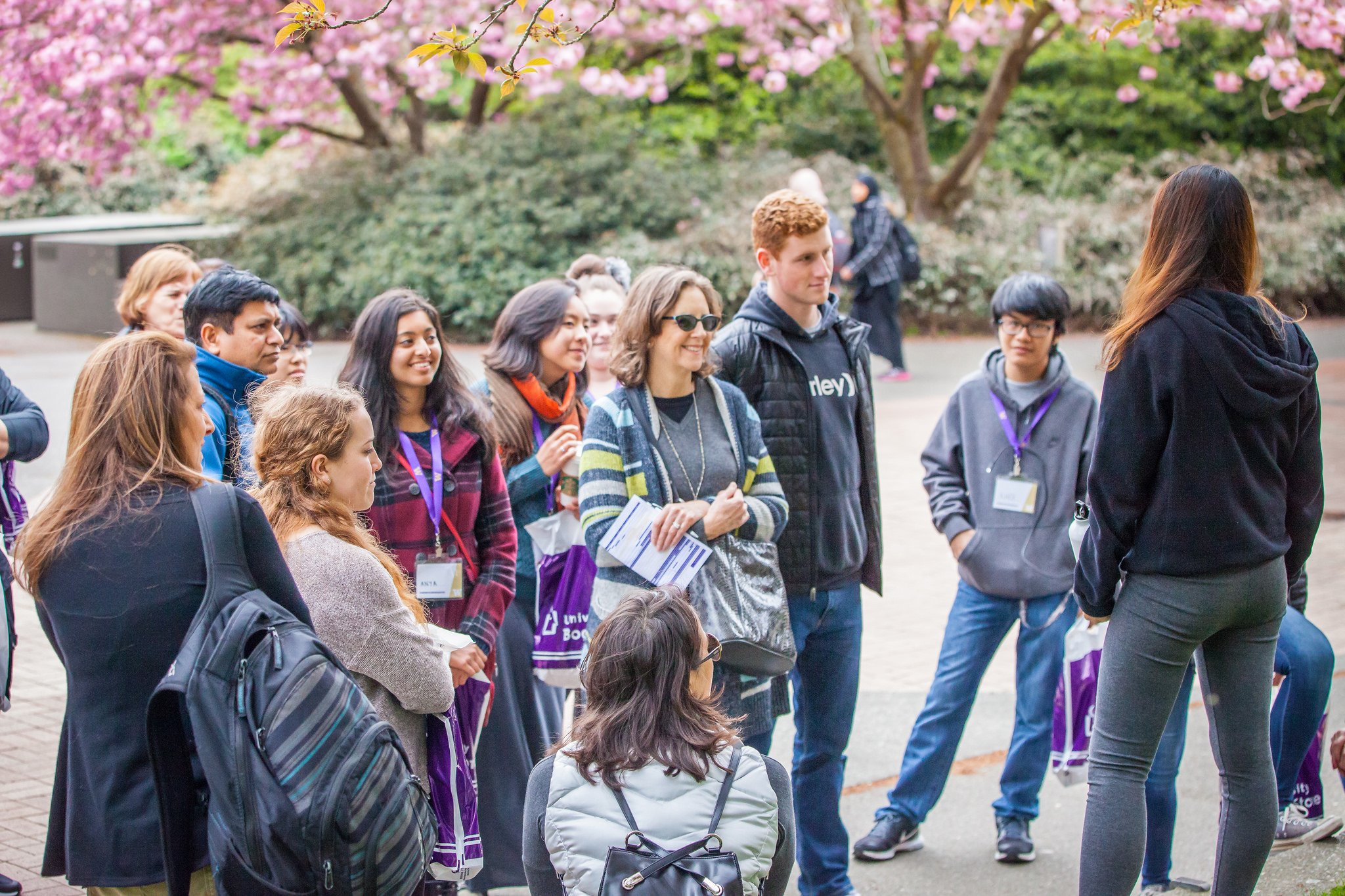 Tours
Take a tour of campus or a residence hall and get a feel for what it's like to live and learn on campus.
Plan your visit
Flying
We've partnered with Alaska Airlines to offer you discounted flights to Seattle. Book through Alaska Air and use meeting fare code ECMC415. Restrictions apply.
Departure cities include: Any Alaska Airlines/Horizon Air US, Canadian, Mexican or Costa Rican city. (Not included: Prudhoe Bay, Alaska.)
Dates of travel: April 3 – 17, 2019 (Blackout dates: April 5-7 and April 12-14, 2019)
Getting to campus
The University of Washington is located in the University District in Seattle. With Link light rail, bus, Uber and Lyft options, there are many ways to get to campus that don't require bringing your car. Be sure to explore all the options to find what works best for you.
Check in for all Admitted Student Preview events will begin at 8:00 a.m. in the Husky Union Building (HUB) Street 1st floor.
Parking
Parking permits may be purchased at any gatehouse location and are sold via a pay-on-entry system. When you purchase a permit at a gatehouse, you'll be asked how long you will be on campus, and you will pay for that amount of time in advance. Gatehouse staff accept cash or Visa/MasterCard.
For disability parking and building access information please ask the Parking Specialist at the gatehouse.
You are welcome to park in any of the lots you are directed to by a Parking Specialist at the Gatehouse. However, Transportation Services recommends parking in the E-18 or E-1 parking lots, located off Montlake Blvd NE. Please enter the lot off NE Wahkiakum Rd and Walla Walla Rd NE. Both lots have plenty of space available and are less expensive than other parking lots on campus.
Note: The walk from the E-18 and E-1 parking lots up to the Husky Union Building (HUB) is uphill with a fair amount of stairs. Please consider this when making your parking decision, and give your group ample time.
E-18 Parking lot information
There is only one pay station in the E-18 lot, located on the south side, near the entrance to the Husky Track. The cost to park is $6/day and Visa and MasterCard are accepted.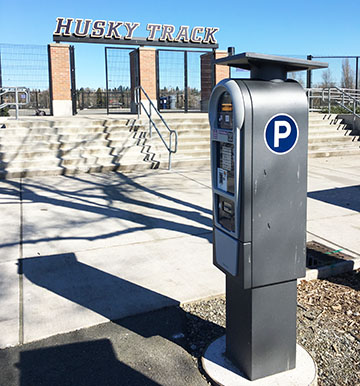 Accessing the E-1 parking lot
Using your Visa, MasterCard or Discover credit/debit card at the entrance reader, insert your card into the slot labeled "Credit Card." When the display text reads "Please remove credit card," pull the card out of the slot. The reader will then verify the card's information, at which point the gate will lift, allowing entry.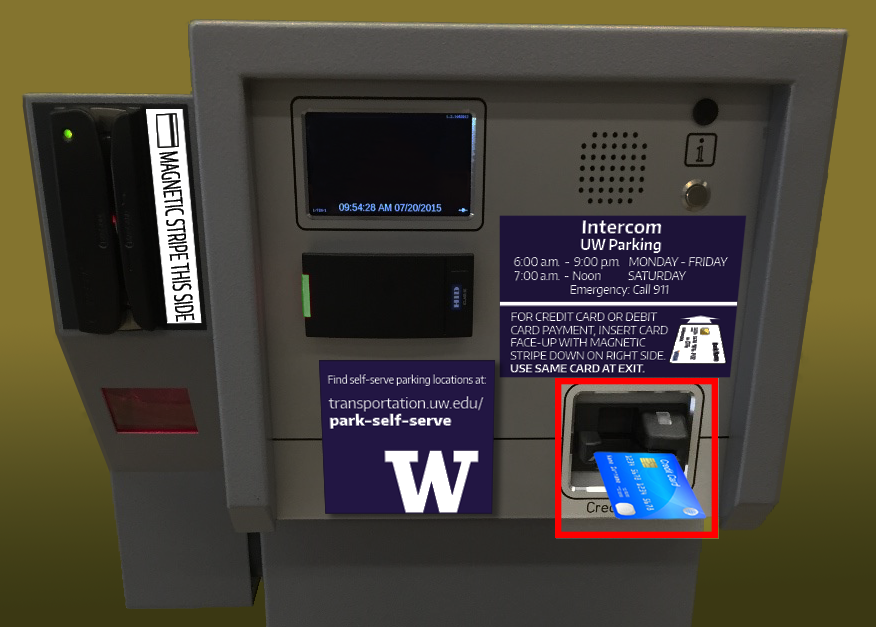 The cost to park is $6/day and can be paid by credit/debit cards (Visa, MasterCard, and Discover) only at E-1.
How will I be able to exit E-1?
At the exit reader, using the same credit/debit card as the one used at entry, fully insert the card into the slot labeled "Credit Card." When the display text reads "Please remove credit card," pull the card out of the slot. The reader will then verify that the card's information is the same as the one used at entry, at which point the the charge will be applied to the account and the gate will lift, allowing you to exit.
FAQ's
How should I dress?
Dress comfortably and check the forecast. Seattle spring weather can vary greatly. We recommend you dress in layers and wear comfortable walking shoes. You will be walking a lot, and you'll want to look up at the sights, not down at your sore feet.
The event is full, can I still come?
If the date you are interested in attending is full, it means we've reached maximum capacity for our opening session and parent/student panels. You are welcome to "walk on" beginning at 9:15 a.m. Check-in at the "Ask a Counselor" table on the first floor of the Husky Union Building (HUB) for a packet, map and the day's schedule.
Will I be able to register for classes?
No, you will register for classes at Advising & Orientation (A&O) during the summer. Once you have paid the New Student Enrollment and Orientation Fee online, you will be able to sign up for an A&O.
May I bring more than two guests?
You are welcome to bring more than two guests to the event. However, seating in breakout sessions is limited. We ask that you limit your guests to two during workshop sessions.
I require an accommodation. Who do I contact?
Please email the Campus Visit Program at visituw@uw.edu.
Is internet access available?
Those with a UW NetID may use it to access the UW wireless network.
Guests who need temporary access will be provided with a login and password at check in.
Hotels
Go to Visit Seattle for a list of hotels in the Seattle area.
I'm an international student and I can't make it to Admitted Student Preview. What opportunities exist for me?
Join us online for "Conversation with Huskies!" Hear from current UW international students and admissions counselor. Get your questions answered about admission to majors, the Husky Experience and more!
I can't make it to any of the ASP dates. What else can my family do to experience the UW while on campus?
We offer many things to do even if you don't attend an Admitted Student Preview session.
After decisions are released in March, we offer daily admitted student presentations and tours that focus on how to accept your offer and enroll at the UW. Please consult the calendar for dates and details.
Take a residential life tour
Dabble Lab/ Area 01 College of Engineering Tours
Check the Seattle campus calendar.
Still have questions?
Contact one of our admissions counselors. Drop-in appointments with an admissions counselor are available from 1:00 to 4:30 p.m. (last appointment starts at 4:15 p.m.) in the Office of Admissions.