How to fill out the Coalition application
Join UW admissions counselors as we walk you through the required components of the Profile (shared part of the Coalition application). Bring your questions, we'll provide the answers!
What does the Coalition offer?
Unlike traditional college application systems, which are used only to submit an application, MyCoalition allows high school students to set up an account and begin learning about application and financial aid processes as early as the ninth grade. Watch the introductory video to learn more.
MyCoalition includes three main features:
Locker. Students can collect and store information that may be useful when they apply.
Collaboration platform. The teachers, counselors, employers, and mentors who are supporting the student's college search and application can offer feedback.
Application portal. Shared application for member institutions.
The Coalition is using CollegeNet, based in Portland, Oregon, the same vendor the UW has used for years. We are confident that CollegeNet is building a robust and reliable system.
The Coalition experience for students
Students in grades 9–12 may create Coalition accounts and then let member schools know they wish to learn more about that institution.
Students may create an account for the sole purpose of applying for admission. They do not need to use the locker or collaboration platform.
No part of a student's information is shared with Coalition member institutions unless the student chooses to share information or apply to a Coalition school using the Coalition application.
Why did we join?
The UW has long sought to join a national application platform to make it easier for our students to apply. The Coalition for College offers the first truly national application to provide us with sufficient flexibility.
Students may complete many of the self-reported academic fields before the senior year, allowing them to work on their application as they move through high school. We are hoping that this feature will reduce stress and frenzy for students, counselors, and families in the fall of the senior year.
These academic fields will transfer to any other Coalition member university whose application also requires a self-reported academic record for grades 9–12.
How will it work at the UW for freshman applicants?
The UW is a single application school: The Coalition application is the UW's only application for freshman applicants as of autumn 2018.
U.S. and international freshmen use the same application.
The UW specific application for autumn opens September 1 each year.
The application deadline is November 15.
We continue to request — at the time of application — only the self-reported academic record for grades 9–12, a practice that greatly expedites application processing.
We continue to require final transcripts for those who confirm enrollment.
We continue to ask that students not provide any letters of recommendation or other supplemental items.
What sections does the UW require from the Coalition profile?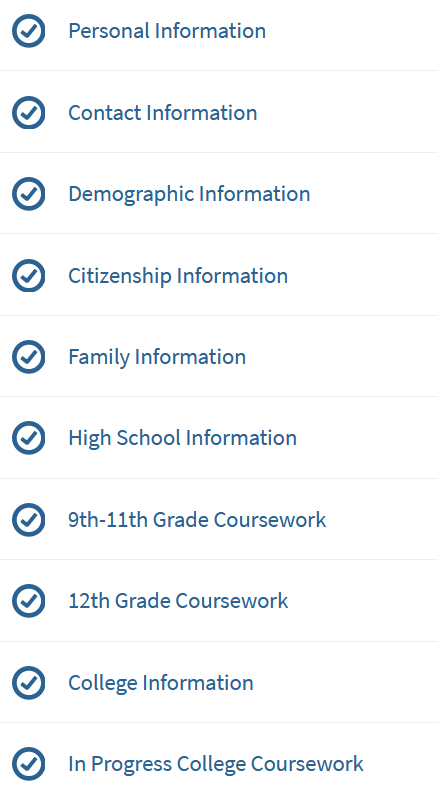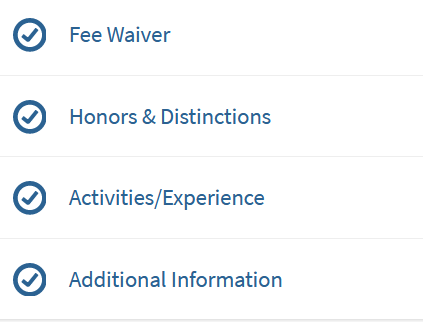 Notes:
The fee waiver section is only required for U.S. applicants.

The English proficiency tests section is only required for International applicants.
The UW no longer requires SAT or ACT scores. Test scores reported in the Coalition may be shared when completing the UW section of the application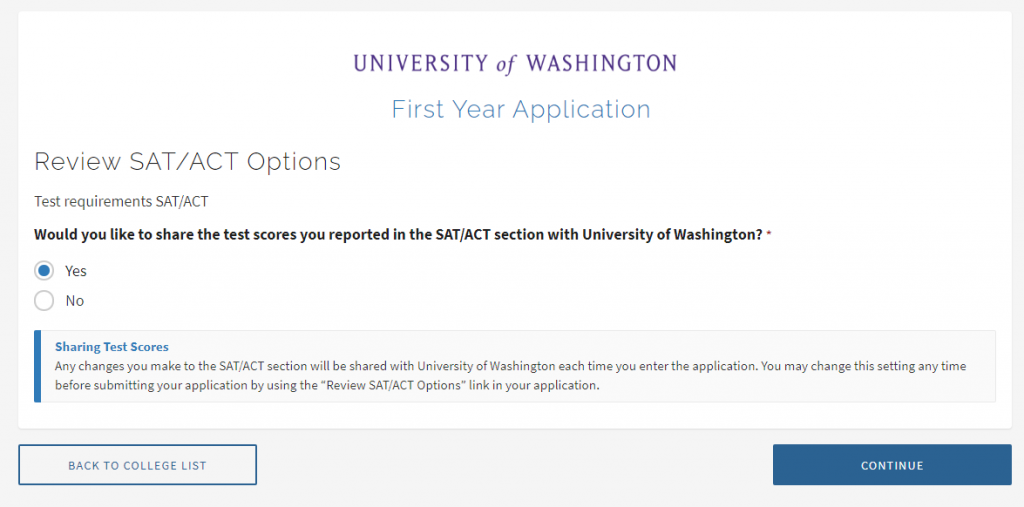 Unravelling "single application school"
This means that the college or university offers no other application platform besides the Coalition's. The UW is a single application school. The discussion below provides some context for our decision and explain a little more about what that means for UW applicants — and the counseling community.
The UW has a longstanding relationship with CollegeNet, the Coalition vendor. This means that we are not moving to a new application vendor. Instead, we are continuing our relationship with our CollegeNet partners while placing the UW application under a larger umbrella.
UW applicants will continue to be able to use their Coalition & CollegeNet username and passwords to set up a UW NetID. The UW partnered with CollegeNet years ago to make that electronic handshake possible to make it easier for students to set up their UW online accounts (NetIDs) so that they can check on the status of their application, view their financial aid awards, apply for housing, etc.
Historically, the UW has never before joined a national application platform such as the Common App. If we were exclusively moving from one national application to another, that might be a burden. We do not expect that moving from our own application to a national application will burden our applicants or our high school partners.
We do not expect the user experience of applying to the UW to be significantly different using the Coalition platform. The UW will continue to use only self-reported course information for application review, not accept or consider letters of recommendation, require that test scores be sent electronically directly to the UW, and require final and official transcripts only of those who have accepted our offer to enroll.
In sum, being a single application school via the Coalition will broaden options for UW applicants, not contract them. If anything, the Coalition is enabling UW applicants to apply to similar institutions in a convenient way. Conversely, the Coalition may expose the UW to potential applicants who may not have otherwise considered applying.
Essay prompts
The Coalition essay prompts for 2022 remain the same. The first one — "Tell a story from your life, describing an experience that either demonstrates your character or helped to shape it" — is the only prompt we'll accept for applicants.