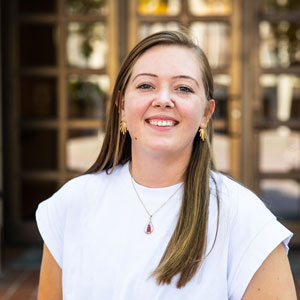 She/Her
meganab@uw.edu
Admissions Counselor
Hometown
Asheville, North Carolina
Alma Mater
The University of North Carolina at Chapel Hill, B.A. Classics
Favorite Place on Campus
Rainier Vista! Turning the corner from Red Square and seeing Mt. Rainier right above the fountain is a view that will never get old. I always make an effort to get outside to Rainier Vista when the mountain's out.
Favorite Place off Campus
Lake Union! Whether it be kayaking in the water or finding a local restaurant nearby, feeling the breeze of the water and seeing the Seattle Skyline is worth the walk down.
Why the UW?

"The UW is not only a place for top academic opportunities, but also a place to foster and develop relationships that will last a lifetime. Whether that be with some of your professors on campus through taking a course or participating in research, or through joining different student organizations and becoming involved, the environment at UW will stick with you forever. You get to be a part of an immensely diverse, creative, and inclusive community that you won't find anywhere else. UW prepares you for whatever steps you take after graduation wherever that may be."
Considering applying to the UW? Use the calendar below to connect with your counselor. Already applied? Please email your counselor with questions.